 A key element of the product design and distribution obligations of financial services and credit licensees which commence on 5 October 2021 is identifying your product's target market.
In developing a product for a target market you have to understand their needs and whether vulnerable customers are a part of that customer base.
Neither the Corporations Act, the National Credit Act or ASIC RG274 Product design and distribution obligations define who are vulnerable customers. Background.
If you do not understand the characteristics of vulnerability of your target market you will fail to ensure that your staff, products and services meet their needs, and as a result customers may suffer poor or inconsistent outcomes, or increased risk of harm. 
The UK Financial Conduct Authority has issued FG21/1 Guidance for firms on the fair treatment of vulnerable customers to address those issues.
It defines a vulnerable customer as follows:
A vulnerable customer is someone who, due to their personal circumstances, is especially susceptible to harm, particularly when a firm is not acting with appropriate levels of care.
The FCA says there are 4 key drivers of vulnerability: health, life events, resilience and capability.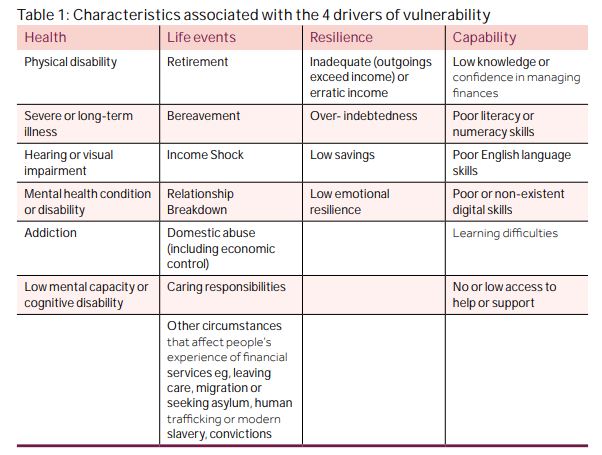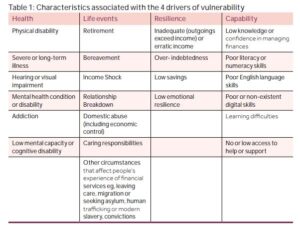 The FCA explains its concerns as follows:
When we consider our consumer protection objective, we have regard to the general principle that consumers should take responsibility for their choices and decisions. However, we know that there are very real factors that might limit their ability to do so.
It explains that to achieve good outcomes for vulnerable customers, financial services providers should:
understand the needs of their target market/customer base;
ensure their staff have the right skills and capability to recognise and respond to the needs of vulnerable customers;
respond to customer needs throughout product design, flexible customer service provision and communications;
monitor and assess whether they are meeting and responding to the needs of customers with characteristics of vulnerability, and make improvements where this is not happening.
If you found this article helpful, then subscribe to our news emails to keep up to date and look at our video courses for in-depth training. Use the search box at the top right of this page or the categories list on the right hand side of this page to check for other articles on the same or related matters.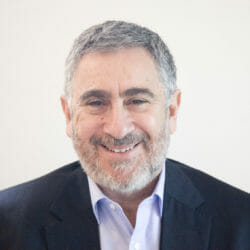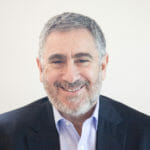 Author: David Jacobson
Principal, Bright Corporate Law
Email:
About David Jacobson
The information contained in this article is not legal advice. It is not to be relied upon as a full statement of the law. You should seek professional advice for your specific needs and circumstances before acting or relying on any of the content.