 ASIC has released Regulatory Guide RG 257 Testing fintech products and services without holding an AFS or credit licence.
RG 257 is a guide for financial technology (fintech) businesses seeking to test products and services before they obtain an Australian financial services (AFS) licence or Australian credit licence (credit licence).
ASIC has published 2 class waivers to allow eligible fintech businesses to test specified services without holding an Australian financial services or credit licence: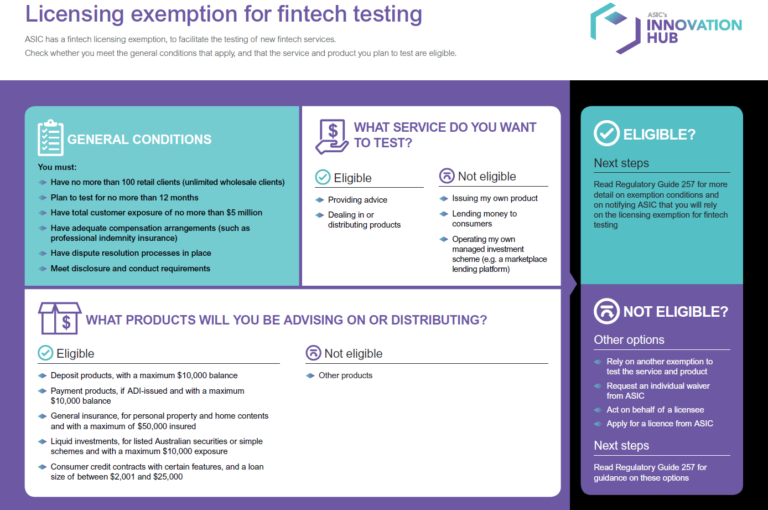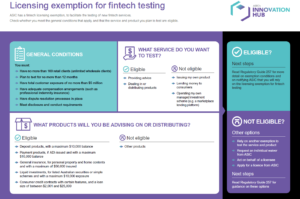 ASIC's fintech licensing exemption will allow eligible businesses to test specified services for up to 12 months with up to 100 retail clients. Eligible businesses must have professional indemnity insurance and dispute resolution processes in place. They must also meet ASIC's disclosure and conduct requirements.
The exemption applies to:
Financial services: providing general advice and personal advice and dealing in a financial product, but not issuing a financial product.
Credit services: credit assistance and acting as an intermediary, but not as a lender.
If an eligible business relies on the fintech licensing exemption, it does not need to hold a  licence for one 12-month period (the testing period). The testing period  commences 14 days after ASIC is advised that the business intends to rely on the  exemption (unless ASIC takes further action). It will be notified in writing of  the date on which its testing period commences.
An eligible business does not need to go through any formal approval process but it will have to obtain a financial services licence or an extension within the year.
Conditions
The fintech licensing exemption is only available if:
(a) the exposure of each retail client to deposit products, simple managed  investment schemes, securities and payment products in relation to  which testing services are provided does not exceed $10,000;
(b) the amount of credit under a credit contract in relation to which services  are provided does not exceed $25,000; and
(c) the sum insured under a general insurance contract in relation to which  testing services are provided does not exceed $50,000.
UPDATE 27 December 2016: the exemption has been extended to the testing of services for debentures, stocks or bonds issued or proposed to be issued by the Government of the Commonwealth.
The total maximum  exposure of all clients taking part in the testing must not exceed $5 million.
An eligible business is required to maintain EDR membership for:
(a) the duration of your testing period (including any extensions); and
(b) a run-off period of an additional 12 months.
Businesses that are not eligible for the fintech licensing exemption are still able to apply for an individual exemption.
ASIC has updated Regulatory Guide 105 Licensing: Organisational competence (RG 105) permitting 'small-scale, heavily automated businesses' seeking to nominate a responsible manager. These businesses may now nominate a responsible manager
without day-to-day involvement in the business to provide regular sign-off on the licensee's processes and systems and the quality of financial services provided.